Does your PlayBook app use local storage, camera roll, media sound or other device APIs? If so, you must add action requests in your blackberry-tablet.xml file when publishing your BAR file for these features to work on the device.
Problem:
The camera roll in my painting application worked with the virtual machine (0.9.4 SDK) but didn't work on the actual device.
Solution:
I added acess_shared to my blackberry-tablet.xml file and the camera roll worked great. The device prompts on first run notifying the user of which permissions you requested, similar to how Android works.
BlackBerry has a list of actions documented here:
http://docs.blackberry.com/en/developers/deliverables/23959/Overview_1352483_11.jsp#Accessing_secure_APIs_1524628_11
Here is a photo of items added to my camera roll: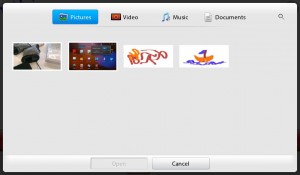 Stay tuned for a full video review of the PlayBook coming this week.
Blog post created on my PlayBook